Since Paul began his exhibition at Platform 1 Café in Clapham Junction, he has sold another 2 rugs bringing his total sales to date to 5 rugs sold!  Paul has also been commissioned to make a rug in the colours and design of the Columbian flag.  With some of his money, Paul is planning dinner out – a curry followed by a good cup of tea!
You can find out more about Platform 1 by visiting their website http://www.thecamdensociety.co.uk/ourbusinesses/cafes/platformone .
Below are some photos taken at the exhibition;
Update 29.04.16
Pauls exhibition came to an end when Paul sold the last of his rugs!  By coincidence, a lady buying Paul's rug's came into Platform 1 as the group were having their lunch.  She was able to meet Paul and tell him how much she liked his work.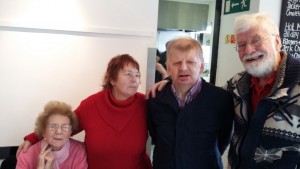 Paul is now concentrating on his commissions, and has plans to have a Christmas exhibition.  Once again we would like to thank Monica, Hannah and everyone at Platform 1 for facilitating this.
Mark Earl
Manager Battersea Base